There are certain things a hunter needs to consider before choosing where to go for red stag hunting. Here are some differences and points that set apart our authentic and natural Patagonian hunting experience from other "forced" environments.
There is huge difference in free range environments and high fenced environments between NZ and Patagonia. The absence of a high fence does not necessarily mean that animals are free roaming if the area is surrounded by towns (like in most of Europe) or by natural barriers which the animals cannot cross (like NZ). The actual range in which animals roam in Patagonia extends well over 5 million + acres, and human population in that same area is extremely scarce.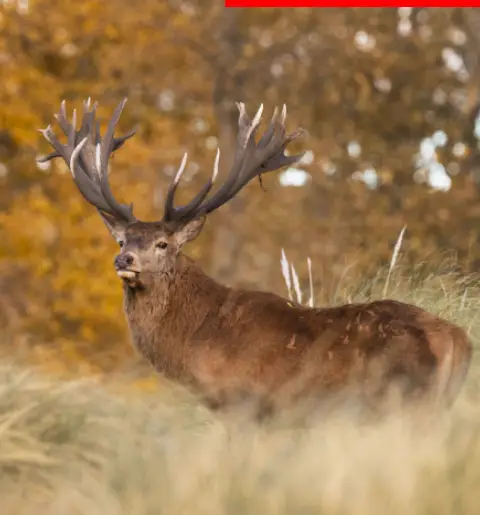 High fence area 40.000 acres
NATURAL POPULATION INDICATORS Fawns, hinds, old stags, young stags, all sizes of animals, both sick and healthy animals, predators, old age cadavers.
POPULATION SPREAD Since it is a natural population, stags of all sizes and scores can be found
ANIMALS SELECTION METHOD Long standing management with rifle by experienced game keepers.
ADVERTISING Hunting success guaranteed from the hunting experience
TIME DIFFERENCE WITH THE US 1-4 hours
Authentic Environment:
Most animals in NZ high fenced areas are bought on deer farms and let out into the hunting ground right before the hunting season starts, they do no constitute a real population and there is no natural food to sustain those animals all year round. They are not wild animals but farm animals simply released to be shot. In fact, you will never encounter young animals, females, fawns and old animals. at Algar, in Patagonia you will find a stable population living in a real ecosystem where deer have feed to survive on their own (and not from artifical diets fed in pens) but are also prey to pumas or some that just die after a harsh winter. The hunting area at Algar is not a cattle feeding area, or is neighboring to a dairy farm, or has public roads going through it, nor does it grow commercial crops. It is an untouched hunting ground where fenced areas are so big and populations occur naturally.
Enviromental pest vs. game animal:
New Zealand's authorities on environment and fauna have long ago declared red deer as a pest and actively pursued its extinction. This means that the real wild population is in absolute decline, both in quantity and quality. Almost every stag shot in New Zealand nowadays is in captivity or was born in such a way. With a present population of over 2 million farmed red deer, it is clear that natural hunting is not a priority. In Patagonia, Argentina, Algar is known for it's prolific fauna, it's care for the environment, and it's deep respect for the environmental laws.
Area:
Algar Safaris extends over 85.000 acres, about half of that corresponds to the free range area. Fenced areas of 40.000 acres in Patagonia, make hunting in NZ's biggest (7.000 max, 2225avg.) like fishing in a bathtub
Time Zones:
If you make a hunting trip to NZ for one week but it takes you 3 days to adjust to the new time zone and 3 days more when you go back, how would this constitute a pleasurable experience? It does not matter from where in the US you are coming from; Argentina never has more than 4 hours difference with the US.
Book your next hunt in Patagonia Argentina
"Thank you so much for a trip of a lifetime! It was top notch all across the bond from the food to the hospitality. The Monster stag will be in my memories for ever."
Corey Penton, GA, US
April, 2023
"We had the most wonderful hunting experience with Algar Safaris! We know we received the best accommodations and treatment that anyone could ask for."
David and Janice Paletta, CA, US
March, 2023
"Had a wonderful hunting trip. Algar is clearly a first-class organization with great hunting facility. Thank you!"
Greg Moore, WA, US
March, 2023
"Everything was above expectations and made for a once in a lifetime amazing experience."
Ryan Kennedy, TX, US
April, 2023